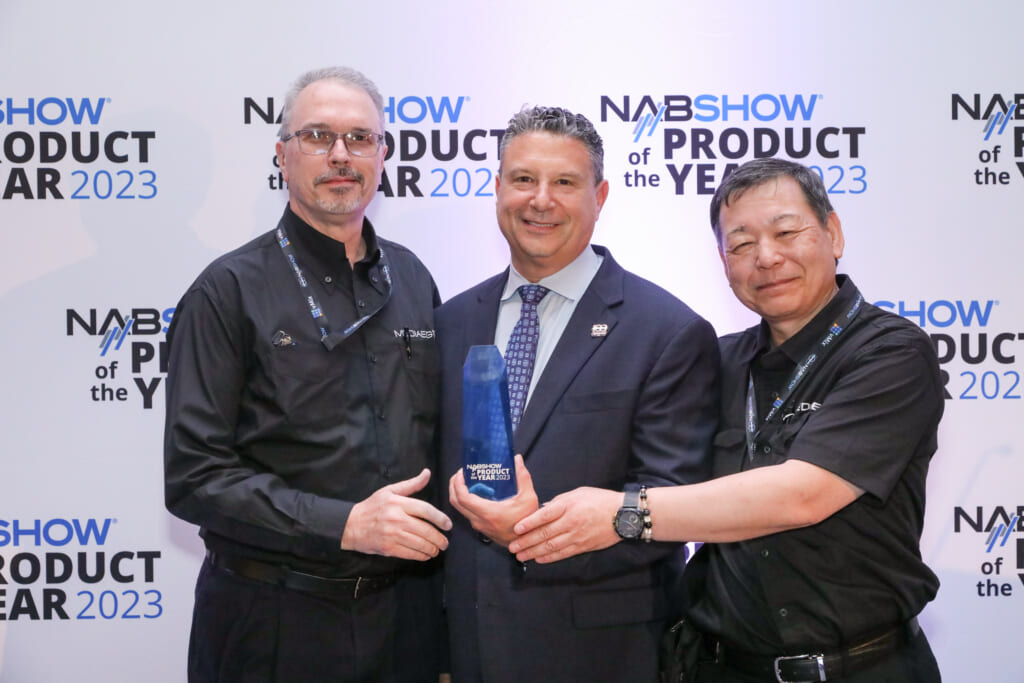 LAS VEGAS — MEDIAEDGE announced today that its SHARE Distribute is a Content Management & Distribution winner in the 2023 NAB Show Product of the Year Awards. This official awards program recognizes some of the most significant and promising new products and technologies showcased by exhibitors at NAB Show.
SHARE – Slow-motion Highlight Augmented Reach Expansion is a vertically integrated automated solution enabling enhanced capture, augmentation, management, distribution, play-out, and monetization of live slow-motion sports highlights or similar content.
MEDIAEDGE SHARE enables wider distribution and enhanced viewer reach by combining typical mobile and social media platforms with in-facility displays. Content can either be interspersed with, or augmented with sponsor advertising vial multi-region layout and playlist.
NAB Show Product of the Year Award Winners were selected by a panel of industry experts in 15 categories and announced in a live awards ceremony at NAB Show on April 18. To be eligible for an award, nominated products had to come from companies exhibiting at the 2023 NAB Show and be delivered within the 2023 calendar year.
"On behalf of the entire MEDIAEDGE team, and our customers who make this possible, we are honored to be selected for our second and third NAB Product of the Year Awards. Receiving two during NAB's 100th anniversary celebration of innovation in broadcasting is especially rewarding."

Hajime Endo, President, MEDIAEDGE Corporation.
"During our centennial year, NAB continues to recognize the products that are transforming how content is being created, connected and capitalized throughout the broadcast, media and entertainment industry," said NAB SVP and Chief Customer Success Officer Eric Trabb. "Congratulations to MEDIAEDGE for winning the 2023 NAB Show Product of the Year Award in recognition of SHARE, a product that has demonstrated its ability to help storytellers face the challenges of the present and future by revolutionizing a critical stage of the content lifecycle."
About MEDIAEDGE
Headquartered in Kobe Japan, MEDIAEDGE is a world leader in video creation, capture, streaming, distribution, and monetization with offices in Japan, America, and Taiwan.
About NAB Show
NAB Show, held April 15-19, 2023, in Las Vegas, is celebrating its centennial year as the preeminent conference and exhibition driving the evolution of broadcast, media, and entertainment. It is the ultimate marketplace for next-generation technology inspiring superior audio and video experiences. From creation to consumption, across multiple platforms, NAB Show is where global visionaries convene to bring content to life in new and exciting ways. More information is available at www.nabshow.com.

About NAB
The National Association of Broadcasters is the premier advocacy association for America's broadcasters. NAB advances radio and television interests in legislative, regulatory, and public affairs. Through advocacy, education, and innovation, NAB enables broadcasters to best serve their communities, strengthen their businesses and seize new opportunities in the digital age. More information is available at www.nab.org.